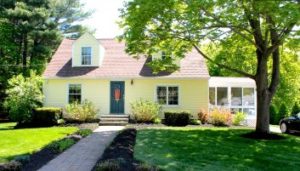 I have had the opportunity to work with Heather as both the seller's agent and as a buyer's agent. Heather has proven herself as professional, responsive, and reliable in both cases. Her professionalism, honesty, and friendly attitude makes her not only a good agent, but also a good person and someone that you want to work with. Heather first impressed my wife and I by how hard she worked as a seller's agent for a house we were interested in. When this first house fell through, we immediately contacted Heather to represent us as our buyer's agent to help us find another home in the Groveland area. Heather's first hand knowledge of the area has been extremely helpful and her responsiveness to our less than convenient schedule has been stellar. I would highly recommend Heather.
Daniel Pothier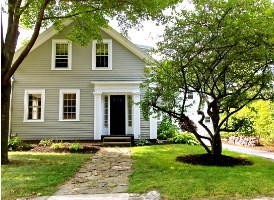 My house was under agreement in four days, thanks to Heather's help. She was awesome, professional and easy to deal with. She takes all of the hassle out of the home selling process, and gets results. I would highly recommend her services as a Realtor, she is someone that I trust.
Paul Bruck
Heather's dedication to finding us a buyer has been outstanding. Heather showed she could think outside the box and presented more potential buyers than any of the previous three realtors combined. Heather's mantra presented to us is dedication, hard work, and loyalty to her clients. She kept in regular contact, keeping us informed and up to date, something that was lacking in the other realtors. Heather is like a breath of fresh air, in a business that can be tough as nails. The Esty family highly recommends anyone considering Heather Klosowski for a realtor, and can simply cannot go wrong.
Rosalie Esty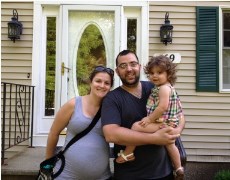 " Heather was touted, " The Best Realtor in Groveland" and I had already been working with someone I wasn't happy with. My wife and I felt comfortable with Heather from the first conversation. She never once put any pressure on us to buy. I worked in the mortgage industry for over five years, handled hundreds of loan transactions, and dealt with countless realtors over the years. I would put Heather at the very top of that list in Essex County. Since we've closed, Heather has continued to be there for my family. She always answers my calls and emails, when most realtors would be focused on their next customer. In our eyes, Heather truly lived up to her billing as the "Best Realtor in Groveland.
Stephen and Nicole Mirasolo
Heather is a polished professional, treats her clients with utmost respect. She takes the time to understand your needs and takes pride in exceeding your expectations. She is personable, honest, and very thorough. Highly recommend!!
sheri riter
Heather helped guide us through the complicated process of selling our family home that was in in a trust. She was attentive, personal, communicative and professional from beginning to end. She has a great knowledge of the real estate market in and around Groveland as well. I highly recommend her for all your real estate needs!
richcayer7
We researched realtors when preparing to list our home. Heather stood out against them all. Her knowledge of the local housing market and her confidence on asking price was truly impressive. Heather helped us walk through the extra steps needed for VA loan. We wanted to support a veteran buyer and her expertise on the process made it fluid. The most beneficial thing Heather provided was a list of honest, reliable and professional service providers like (handyman, HVAC etc.) This made the overwhelming task of getting the house ready for sale possible. We had many choices for a realtor and we are so glad we picked Heather. We would recommend her to anyone looking for a realtor.
user914197004
My husband and I highly recommend working with Heather and have referred her to others already. Heather walked us through the whole prep, show and close process, making it as straight-forward and easy as possible. With her great local connections and market knowledge, we couldn't be happier with the way our sale was handled!
mariasalreid
There are not enough words to express how much Heather did for us in such a short period of time! She is one of the kindest, caring, courteous and professional human being I've ever had the opportunity to meet. From the moment she arrived at my property, I knew I chose the best realtor in the market! She doesn't just do her job, as a realtor, she does more than that....she truly cares about the people involved, including all the emotions that go into it. She was always there for us, every step of the way. With her hard work (including the beautiful pictures she took) and dedication, we were able to get our home under agreement within just a few weeks. I wouldn't be able to recommend anyone else, but Heather! She truly is amazing! There aren't enough thank you's to give her! This time she was there for me as a Seller. Next time, she will be there for me as a Buyer :)
bethannwyman09
Heather sold our home during Spring 2020 with all it's social/health challenges. She handled every detail from start to finish precisely and to our comfort level. Always providing every update along the way in a timely manner. She truly is an exceptional professional and we were so glad that we chose her to represent us
mecontos
Heather is the best realtor out there! We love her every step, she is very profesional and lovely, we can thank enough for helping us to sell our home so quickly Thank you Heather
iraimaa
Heather's has great knowledge of the area her advice of when to sell and the price was spot on . The people she deals with made everything go smooth from the lawyers to the loan people.
sheaekem26
Heather was phenomenal through the entire transaction. Her pictures, pricing, and negotiation skills were very impressive. I would highly recommend her!!
snoopy1277
Heather was our Home Selling psychologist. Through (real or imagined) stresses when selling our home of 18 years, Heather provided reassurance, professionalism and courtesy. The home Showing was a 'feeding frenzy'; Heather was unflustered. The pricing negotiation was calmly done. Heather says that she cares - and delivers on her promise. A first-rate home selling experience. Why go anywhere else?
jonesofboston
Heather was very professional throughout my home selling and buying process. She walked me off the ledge numerous times by being very understanding and following up on things I was having trouble dealing with. She is a wonderful salesperson and I would recommend her highly.
vrusso9957
We started working with Heather in 2015 and closed on a home at the end of 2016. It was our first time buying a house so it took us a long time to make a decision. To be honest we were all over the place with location, budget, and not having a lot of free time because of busy schedules. Through the whole process Heather was so patient with us and always positive and made it a fun experience. We felt like she was our friend when we needed her to be our friend and our advisor when we needed an advisor. If we ever have to go through this process again she will be or realtor. I wouldn't go to anyone else. Plus she is now our neighbor as we bought a house on the same street. If you are looking to buy or sell please choose Heather. You will enjoy working with her.
Jonathan Carey
Buying a home is a long drawn stressful process, from finding the right town,school, neighborhood, house and mortgage to finally moving in. Heather makes it seem very easy, she's very knowledgeable about the house buying process and has an army of referrals(from mortgage advisors to home inspectors.. electricians... landscapers..) which helps a lot. She's very friendly and a pleasure to work with. I will recommend her without any reservations.
desaip01
I don't even know where to begin! Heather has been absolutely amazing in every aspect. We contacted her a few months before our house actually went in the market. She came over to give us her opinion as to what we could get for our home. As soon as she walked in we knew she was our realtor. She was friendly and professional, she never made us feel rushed or pressured. She worked with us through some hiccups we encountered on the way. As soon as we have her the play she he our house listed and an open house planned. Heather had our house under agreement in 2 days and under agreement well over asking price. I can't thank her enough for all her hard work and dedication. She went above and beyond and was always there whenever we needed her. I would recommend Heather to anybody looking to buy or sell a home. She truly is amazing!!! Thank you Heather for all you have done for us!!!
sbegin00
Heather is an amazing realtor. She helped us find our home after we had been through 2 1/2 years of being lost in bidding wars and going through 5 different realtors. When we found Heather we were able to find that house that we were looking for in just a few months. She was extremely friendly, easygoing, attentive to our needs and was always in communication with us. She is so amazing that I've already recommended her to my family and friends.
user57418492
Earlier this year, when we were ready to put our house on the market, Heather's signs were showing up in the neighborhood and they were soon marked "SOLD". We wondered: "who was this magical realtor?" We then received a postcard mailing from Heather and learned that she was local to the area, had years of experience with the big realty companies, and was now independent realtor. So we decided to contact her and find out what she could do for us. We were pleasantly surprised by her responsiveness and her willingness to meet our needs. She offered several programs of support, and one of them met our needs perfectly. Heather was so enthusiastic, and so excited to have a chance to sell our home, we decided not look any further and engaged her on the spot. And as it turned out, we were so glad we did. The following weekend, after the sign and the web postings went up (MLS, Realtor, Zillow, etc.) Heather hosted our first and only open house. This generated immediate interest and we found ourselves blessed with competing buyers' offers! We were thrilled, to say the least, and even more so to accept an offer a bit above our asking price. In the weeks between offer acceptance and the closing, Heather was always there for us. It had been 15 years since we sold a home, and that was in another state. Selling in Mass was a different experience. Heather helped every step of the way, connecting us with the right people to move things along. She also kept us abreast of the status of our buyers' progress on their financing and conditions, right up to the day of closing. We've sold four homes now, and never did we ever have the kind of positive, friendly, and personal experience we enjoyed with Heather. We can't say enough good about her. We strongly recommend her, and would engage her again without hesitation.
zuser20160315073811897
Very professional and knowledgeable about real estate, local history and current happenings in the market...also very quick to respond to all questions and concerns regarding the process of selling a home....
crdanf
Heather has a warm professional demeanor that provides comfort and confidence to guide you through two stressful transactions, either selling or buying a house. It all worked seamlessly for me. Great negotiator, committed to working for her clients. Highly recommended.
pbruc90
Heather is a natural....she's smart, quick on her feet, listens to her clients, and patient. As a resident of the area, she's very knowledgeable of the past sales and current trends happening around her at all times. She's the realtor you want in your corner.
BMH1112